April 18th, 2012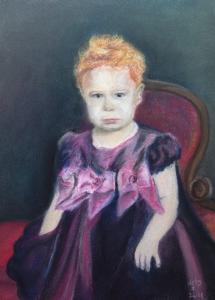 So the first post of the year - my, my and its already half way through April! But I haven't been slacking off (well not too much). Firstly I FINALLY finished off the pastel of Z that I had been working on for about a year! It was my first real attempt at using soft pastels and after finding that I could use a smudger to almost paint with the pigment, I found I was able to work into the page to create a pretty realistic feel. Although, I still have a LONG way to go in developing my skills, this type of realism is quite addictive when you start trying to perfect small areas. I think I must have redone her chin about 30 times trying to get the shadows to lie just right! Anyway, it felt really good to complete and to finish it off, I used a 19th century looking gold frame to give it that extra Queen Victoria kicks ass kick!

Then came the princess. I was commissioned to do a couple of cows and sheep and if possible a small princess picture too. I knew for sure that I did not want this princess to be the overly pink cutsie princess as I had already been balking at the fact they were making games like Twister and Connect 4, gender specific! So I went with a more fairy tale princess and before I knew it, the frog showed up. I love it when I am sketching and trying to figure out how a character should look, like the frog this time, and all of a sudden, once you get the way the eyes and the mouth fit together just right, the damn thing starts talking to you from the page. Bold as you like and out of the blue... 'RIBBIT'! That's when you know you've got him.

Then came "The Pandorica Opens" or as the real title of the picture is 'Blue Box Exploding" I wanted to paint a picture for my friend for her birthday and having just watched the episode of Dr Who, it was a no brainer to try to pull this one off. The hardest thing was to find a good picture of it online somewhere that I could copy from and eventually I ended up using two images taken at different angles and trying to figure it out that way. I kind of worked though and gave me some freedom to add my own little bits in there while trying to stay true to the original. I also found this kind of textured and blended painting pretty hard to do in acrylics and wished done it in oils, but as always, I was running out of time to get it finished. Acrylics dry fast!

So that's you pretty much caught up to date. Now I'm working on something to show at the Starbucks downstairs in May. I have 3 different ideas started and its going to be interesting to see which one starts literally speaking to me.